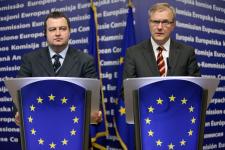 SERBIA
Serbian Interior Minister Ivica Dacic says that Serbia has fulfilled all the conditions required for EU visa liberalisation, Fonet news agency reported on Tuesday.
"I am sure that Serbia has met all the conditions and that a positive decision will be taken by the European Commission, EC, at the end of the year. I hope that it will be confirmed by EC official Jacques Barrot," the agency quoted Dacic as saying.
After addressing a regional seminar, hosted by the Norwegian Foreign Ministry, on visa liberalisation and regional cooperation, the minister expressed his hope that Serbia's citizens will be able to travel to EU states without a visa from next January.
Serbian Deputy Prime Minister Bozidar Djelic announced earlier that Serbia had four technical conditions to fulfil by September 30 to be incorporated in the EU visa-free scheme from next year.
He said the four conditions include: the implementation of a Law on Foreigners; the adoption of a National Migration Management Strategy; an action plan for combating organised crime and drugs; and the implementation of procedures for issuing biometric passports to citizens living in Kosovo.
Dacic told seminar participants that the EC's decision to propose visa liberalisation was a great boon for Serbia and recognised the work of its interior and justice ministries.
The Serbia-EU rule of law mission in Kosovo, EULEX, policing protocol, signed on Friday, is seen as important in promoting Serbia's compliance with EU requirements for inclusion in the visa regime.
The protocol is supposed to allow for far more stringent control of the administrative line between Kosovo and central Serbia and, in this way, provides for "a palpably stronger fight against organised crime", Dacic was quoted by broadcaster B92 as saying.
He added that the protocol is "exclusively of a police and technical nature".