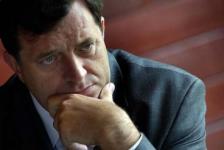 BiH
Three senior international envoys have strongly condemned Bosnian Serb leader Milorad Dodik for accusing Bosniaks (Bosnian Muslims) of staging civilian massacres.
"Any attempt to change the established historical record of war crimes is unacceptable and inexcusable," High Representative Valentin Inzko, the head of the Council of Europe in Bosnia and Herzegovina, Caroline Ravaud, and the chief of the Organisation for Security and Cooperation in Europe, OSCE, mission in Bosnia, Gary Robbins, said in a joint statement released on Tuesday.
The message was addressed directly to Republika Srpska Premier Dodik, who, a few days ago, shocked and infuriated war victims' families and much of Bosniak civil and political society through pinning the blame for three war-time mass killings in Tuzla and Sarajevo on the Bosniak-dominated Bosnian Army. Dodik claimed the Bosnian Army's intention was to provoke an international reaction and NATO military action against Bosnian Serbs.
He also complained that the International War Crimes Tribunal for the former Yugoslavia, ICTY, has largely investigated and prosecuted crimes committed by Bosnian Serbs, while ignoring those committed by Bosniaks and Bosnian Croats against Serbs.
In their statement, the three envoys stressed that the Bosnian Court and ICTY have found three Bosnian Serb officers guilty of artillery strikes in Sarajevo and Tuzla in which civilians died, including individual mass killings in Tuzla in May 1995 and at Sarajevo's Markale market in February 1994 and August 1995. The three attacks left 176 civilians dead and hundreds injured.
In their statement, Inzko, Ravaud and Robbins also warned Dodik that such a disrespect for historic facts and the feelings of war victims' families may not only affect his credibility but may also violate key legal principles.
"When such misstatements come from an official in a position of high responsibility, an official who is obliged to uphold the Dayton Peace Accords and cooperate with the ICTY, they are particularly irresponsible, and undermine not the institutions devoted to upholding the rule of law, but rather the credibility of the individual himself," said the statement.
"While under the European Convention on Human Rights everyone enjoys freedom of expression, this may be subject to limitations, notably for "maintaining the authority and impartiality of the judiciary" or for "the protection of the reputation or rights of others"," the statement concluded.
Meanwhile, the anger of war victims' families and representatives of Bosniak political parties and civic organisations has yet to be placated.
One local politician from Tuzla has announced that he is pressing criminal charges against Dodik, on the basis that his statements constitute an obstacle to the work of the Bosnian State Court. Several families of war victims from Tuzla and their associations are also contemplating legal measures against Dodik.
Tuzla's Assembly will also discuss a request from several civic organisations and political parties to proclaim Dodik persona non grata in the northern town.