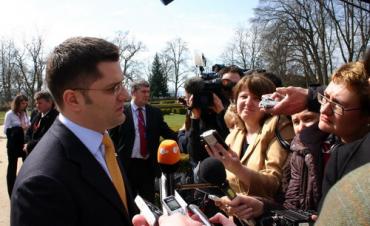 SERBIA
Foreign Minister Vuk Jeremić says that Serbia could submit its EU membership application before the end of the year, during the Swedish EU presidency.
Jeremić said that, for Serbia, submitting the application was "strategically important, vital and crucial, and that it would draw a line under the international debate as to which path Serbia wanted to take."
He added, though, that there was no ideal time for applying for membership and that it was important to remove the final barriers, including cooperation with the Hague Tribunal.
The foreign minister will be travelling to the UN General Assembly (GA) in New York next week in a delegation headed by President Boris Tadić.
He said that Tadić's statement at the GA plenary session would focus on the world economic crisis and climate change, which were the central themes of this year's session.
Several dozen bilateral meetings with other delegations, heads of state and government would also be held, where Serbia would have an opportunity to flesh out its arguments, primarily on the issue of safeguarding its sovereignty and territorial integrity, said Jeremić.
The minister said that he had information that Priština was well-prepared for the session in New York, working through lobby groups, NGOs and with the help of certain influential countries.
Speaking to Pink TV, he said that Belgrade was also very well-prepared and had identified the countries that were being pressured into recognizing Kosovo, which was the reason why Serbian officials had been making such a lot of trips abroad.