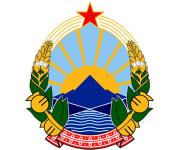 MACEDONIA
The five-pointed red star on Macedonia's official coat of arms, could soon be consigned to history.
The government has already decided to remove the star, which dates back to the period when the country was part of the Socialist Federal Republic of Yugoslavia, local Dnevnik daily reveals on Friday.
The ruling centre-right VMRO-DPNME and its Albanian coalition partner, the Democratic Union for Integration, DUI, appear set to garner the required two-thirds majority in parliament needed to push the measure through. The move also enjoys the support of most ethnic communities .
The government proposal is expected to be put before parliament soon.
Macedonia is among the last former socialist countries to remove ideological elements from its state symbols, the daily comments.
Unlike the flag, which had its red star removed almost immediately after the country proclaimed independence from the former Yugoslavia in the early 1990s, Macedonia's coat of arms remained unchanged.
Several past efforts to remove the star ended in failure, because politicians could not agree on an alternative.
The most recent effort was in 2007, when the Justice Ministry instigated legislative changes in order to remove the star. These failed because experts argued that the whole coat of arms is problematic, not just the star.
Macedonia's coat of arms maintains an overall socialist feel, they said, arguing that if the country is making amendments, it would be better to change it completely to reflect the nation's efforts to become a Western democratic society.