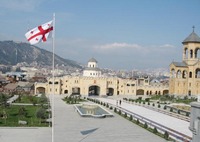 "The agenda includes the issue of strengthening the mandate of the EU monitoring mission in Georgia, but I cannot say to you anything more about it today," the Danish Foreign Minister, Per Stig Moeller said at a news conference held jointly with his Georgian counterpart, Grigol Vashadze in Tbilisi.
He said the EU monitoring mission in Georgia comprises nine Danes. "Today I have met with them. This mission has assumed the role of the OSCE, and we want to make it even more increased," said Moeller.
His visit began today, on Oct. 5 and will run by Oct. 7. During the visit, Moeller will meet with Georgian President Mikheil Saakashvili, Parliamentary Speaker David Bakradze and representatives of the opposition.