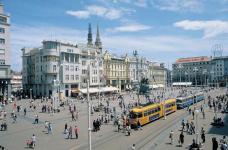 Police detained on Monday seven former Croatian soldiers suspected of killing Serb soldiers in neighbouring Bosnia at the end of the country's 1992-1995 war, local media said.
"A criminal probe is being conducted against seven former members of the Croatian army," police spokesman Krunoslav Borovec was quoted by Javno.Hr as saying.
More details are to be made public on Tuesday, he added.
According to a national television report the seven are suspected of shooting five Serb soldiers imprisoned in western Bosnia.
The killings took place during a September 1995 joint operation of the Croat and Muslim-led Bosnian army against Bosnian Serbs, it said.
During Bosnia's civil war, Croatian forces were for a certain period backing the Muslim-led Bosnian army.