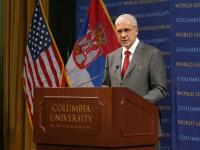 Serbian President Boris Tadic is convinced that the decision of the International Court of Justice, ICJ, on whether Kosovo's unilateral declaration of independence went against international law will be made in favor of Serbia.
In an interview with Italian news agency ANSA, the president explained his optimism about the decision. He said that if the ICJ rules in favour of Kosovo, it would send a dangerous precedent in other countries.
"If you accept the violation of international law, we will have a crisis in many parts of the world," the agency quoted him as saying.
Tadic pointed out that Serbia has decided to defend its territorial integrity and sovereignty in a diplomatic way.
"Serbia does not recognize Kosovo's independence, but will remain strong in an attempt to find, through dialogue, a peaceful solution," he said.
In September, Tadic presented his case to the UN General Assembly and called on UN member states to allow the Court's proceedings run their course, without adding political pressure by recognising Kosovo.
There is no deadline for the ICJ to issue its ruling. Foreign Minister Vuk Jeremic, however, predicted earlier that the decision is likely to come in the first half of next year.
When asked about war crime fugitive Ratko Mladic, Tadic said that the Mladic's arrest represents an obligation for the Serbian state and its democracy.
Noting that it would be counterproductive to place time limits on the arrest, the president said that Serbia is doing everything in its power to catch the indictee.
"He will be arrested at the moment we find out where he is. If it is on Serbian territory, it will be much easier, if not in Serbia, it will be difficult, but Serbia will participate in all operations of intelligence agencies that deal with this issue, " he said.