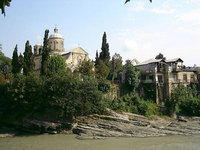 The Georgian Interior Ministry calls on Tskhinvali to release four Georgian teenagers recently detained by South Ossetia's police. The four Georgian schoolboys disappeared from the territory controlled by Georgia yesterday, the ministry said.
Russian media said South Ossetian police detained the four teenagers for carrying grenades and explosives. They have already been called terrorists.
The Interior Ministry said 14-year-old teenagers Giorgi Romelashvili, Viktor Buchukuri, Aleko Sabadze and Levan Khmiadashvili are residents of the Tirdznisi village in the Gori region, which is situated near South Ossetia.