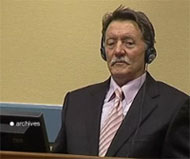 A former Bosnian Serb army general has lost his appeal against a conviction for war crimes committed during the 43-month siege of Sarajevo. 
The judge said Dragomir Milosevic did more than merely tolerate the actions of the army: by intensifying the campaign against the city he encouraged his subordinates' crimes.
Milosevic became army commander during the second half of the siege of Sarajevo in which at least 10,000 people died. He was jailed for 29 years; his predecessor as Bosnian Serb army commander was jailed for life in 2006.