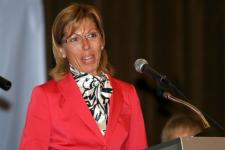 The Bulgarian government Wednesday formally put forward Foreign Minister Rumiana Jeleva to be the country's new EU Commissioner. 
Jeleva was nominated at the beginning of the October 2009 by Bulgaria's Prime Minister, Boyko Borisov, as Bulgaria's new EU Commissioner after he refused to nominate for a second term Meglena Kuneva, the EU's Commissioner for consumer protection since 2007, local media report.
Borisov said after preliminary talks with European Commission President Barroso it emerged that Jeleva would probably head the Commission's directorate for enlargement or the one for neighborhood policy, Standart reports.