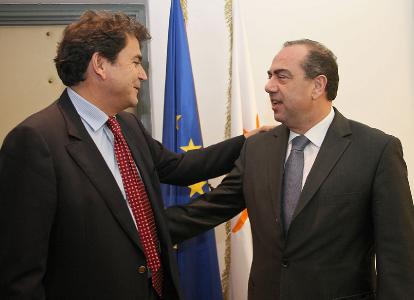 Blocking Turkey's progress toward European Union entry at a key December summit would not be in the interests of Greek Cyprus, according to the Greek Cypriot foreign minister.
"As the situation stands today, we deem it would not be in our interest to halt Turkey's accession process," Greek Cypriot Foreign Minister Markos Kyprianou said late on Wednesday.
"Naturally, this does not mean it will happen unconditionally and carte blanche. This is the fine line we are aiming to reach in December," he told a news conference during a one-day visit to Athens.
Turkey began EU membership negotiations in 2005, but has so far opened talks in only 11 of the 35 policy areas that candidates must complete, while France, Germany and other member states have sought to slow or halt the process. Questions of EU enlargement must, in almost all cases, be resolved with unanimous agreement.
EU progress
The Turkish Cypriots and Ankara worry that the Greek Cypriots are deliberately protracting the talks and accuse them of impeding progress in Turkey's EU bid in order to extract concessions on the Cyprus conflict.
U.N.-brokered peace talks in Cyprus began in September 2008, but progress has been slow and the two sides remain deeply divided on key issues. "We are waiting for real gestures from Turkey, not just expressions of intent," Kyprianou said.
"There are no additional obligations compared to other candidate states. In contrast, Turkey had more lenient treatment when the procedure began and for this reason had more ground to cover," he said. "Turkey must show its compliance (in December) or repercussions cannot be avoided."
"We want a European Turkey … not just a Turkey operating as a guest within the EU, as is perhaps its goal," Kyprianou said.