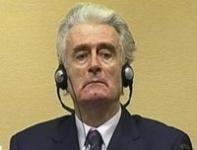 Radovan Karadzic has asked the Hague Tribunal to grant him the right to appeal the Tribunal's decision ordering the appointment of a defence attorney to represent him.
In a motion filed with the Tribunal, Karadzic said that the decision imposing a defence attorney on him was "of extreme importance" for a fair and expeditious trial, but it was "flawed".
On 5 November this year the Trial Chamber of the International Criminal Tribunal for the former Yugoslavia, ICTY, rendered a decision by which the Tribunal's Registrar would appoint a defence attorney to represent Karadzic. The defence attorney would be granted three and a half months to prepare for the trial.
Karadzic asked the Court to give him the right to appeal the decision due to the fact that it did not order the Registrar to provide him with a list of defence attorneys from which he could choose one to represent him.
"Dr Karadzic cannot but notice that the Trial Chamber's decision is flawed in many ways. This, among other things, refers the lack of arguments to support its conclusion that the period of three and a half months, which was probably determined with no particular reason, would be sufficient for the defence attorney to prepare for such a difficult and complex trial," Karadzic's motion states.
The Trial Chamber decided that the trial would continue on 1 March, 2010, when the appointed defence attorney would take over "the management of the indictee's defence" in case Karadzic still continued to refuse to appear in court.
The Chamber rendered this decision after Karadzic had refused to attend the beginning of the trial on 26 October this year and the two subsequent hearings, held on 27 October and 2 November, at which the Prosecution presented its introductory arguments.
Karadzic then appeared at the status conference held on 3 November this year, when he said that he would continue to refuse to appear at the trial until he was ready for his defence. The Hague Tribunal's Chamber judged his statement to be "vital and persistent interference with the trial".
Prior to the beginning of the trial, the indictee insisted on managing his own defence, asking the Tribunal to grant him an additional 10 months for preparation. The Tribunal rejected his request.
The Hague Prosecution charges Karadzic, former President of Republika Srpska, with genocide committed in Srebrenica and 10 other Bosnian municipalities, as well as "the shelling and sniper campaign in Sarajevo" from 1992 to 1995.
He was arrested in Serbia in July 2008, after having been on the run for more than a decade.