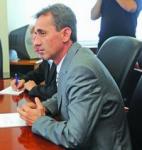 Macedonia's government has decided to turn its liaison office in Pristina into embassy, Deputy Prime Minister Abdulakim Ademi said.
The decision was reached at a government session late Wednesday.
"This is the government's final decision. At the same time the government initiated a procedure for appointing an ambassador to Pristina," Ademi told media, without revealing the name of the new ambassador.
Ademi said the opening of the embassy would be easy as most of the technical preconditions are already met.
The embassy's opening ceremony will be accompanied with the signing of several bilateral agreements tackling the economy, police and medical cooperation, he said.
The arrangements were previously agreed during the first official visit of Kososvo's Foreign Minister Skender Hyseni to Macedonia last week.
Ademi said that the Kosovo authorities will also soon open its embassy in Skopje.
Macedonia recognised Kosovo's independence last year but conditioned the establishment of diplomatic relations with the marking of the border between the two former Yugoslav states.
Both countries established diplomatic relations on 18 October right after the border demarcation was done.
Skopje's move caused bitterness in Serbia, that sees Kosovo as its own province.
Macedonia said it whishes good neighborly relations with both Serbia and Kosovo as much of its economy depends from both states.