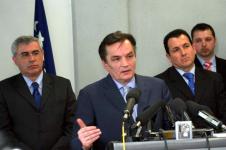 Haris Silajdzic, the Bosniak (Bosnian Muslim) member of Bosnia's tripartite presidency, slammed Serbia over claims that they were the guarantors of the Dayton peace agreement which ended Bosnia's 1992-95 war.
"The Dayton agreement does not need any guarantors. Serbia was only a signatory to the agreement because of its role in the aggression on our country," Silajdzic said in a statement.
"Serbia should stop with its attempts to assume the role of a major power or an outside arbiter for our country," he added.
Silajdzic was reacting to a statement made by Serbia's Interior Minister Ivica Dacic in Banja Luka on Friday.
Dacic, who also serves as Serbia's deputy Prime Minister, was in Banja Luka on Friday to discuss economic cooperation with Milorad Dodik, Prime Minister of Bosnia's Serb-dominated Republika Srpska.
The 1992-95 Dayton peace agreement for Bosnia had, among others, been signed by Serbia and Croatia.
Under the agreement, two highly autonomous entities were created – the Croat-Bosniak federation and Republika Srpska. Each entity has its own parliament, presidency and government, but the two are linked by weak central institutions.
Serbia's backing for Bosnian Serbs has in the past repeatedly prompted Silajdzic to accuse Belgrade of interfering in his country's internal affairs and attacking its sovereignty.
Silajdzic said Bosnia was committed to good neighborly relations with Serbia, but that this would only be possible if Serbia stops interfering.
"Bosnia and Herzegovina will resolve the internal issues within its institutions with the help of NATO and European Union member countries…whose efforts led to the end and not to the start of (Bosnian) war," he said.