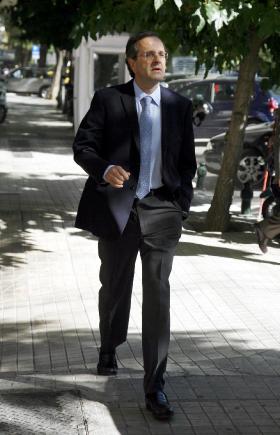 The main opposition party in Greece has elected a former foreign minister and party rebel as its new leader, causing both concern and hope in neighboring Turkey. While giving a tacit support to Turkey's EU membership bid, Antonis Samaras is also expected to purse hard-line foreign policy.
The unexpected result in the race to become the leader of Greece's main opposition party has sparked both hope and concern in Turkey.
While the new leader of the conservatives seeks better relations with Turkey, he is also expected to pursue a hard-line policy on foreign affairs.
The center-right New Democracy Party, or NDP, has chosen Antonis Samaras, a former foreign minister and party rebel, as its new leader, replacing ex-Prime Minister Costas Karamanlis, who quit after losing the country's general election Oct. 4.
Samaras, 58, garnered 50.2 percent of the vote in Sunday's nationwide poll of about 770,000 party members, the NDP said Monday. The high turnout in the U.S.-style primary, the party's first, has surprised even senior party officials at the NDP's headquarters in Rigillis, observers said.
Equally surprising was the result: Samaras, also a former culture minister, beat one-time foreign minister and frontrunner Dora Bakoyannis and Thessaloniki province head Panayotis Psomiadis in the race to win the party leadership.
Bakoyannis, Samaras' closest rival for the post, conceded defeat in the early hours Monday.
"You have received the message of hope and turned it into a great, unprecedented, peaceful and democratic revolution," Samaras told his supporters.
Stunning comeback
The result capped a stunning comeback for Samaras, who served as foreign minister in the early 1990s but later formed a splinter conservative party that brought down the conservative government of Prime Minister Constantine Mitsotakis in 1993.
While foreign minister, Samaras adopted a hard line in Greece's name dispute with Macedonia in demanding that the latter country change its name to avoid a potential territorial claim against Greece's northern region, also named Macedonia.
The dispute remains unresolved, hindering efforts by the former Yugoslav republic to join NATO and forge closer ties with the European Union.
Samaras, who is a member of a well-known Athens family and the grandchild of Penelope Delta, one of the most influential writers in modern Greek history, is expected to remain a staunch supporter of his predecessor Karamanlis' "red-line" foreign policy and its non-acceptance of the double-name proposal for Macedonia.
In terms of Greek-Turkish relations, Samaras seeks better ties between the two neighbors and also vows to support Turkey's European Union membership bid. However, in a recent statement, he solely blamed Turkey for military dogfights in the Aegean Sea.
"We will support the government's actions that we agree with and we will oppose anything that is against our ideology," the new NDP president said after meeting with the Greek prime minister at his office.
Political sources close to Samaras say he is not willing to promote a nationalist discourse to gain ultra-nationalist voters – a policy Karamanlis followed during the Oct. 4 polls.
Greece's new center-left government, led by Prime Minister George Papandreou, is facing a projected budget deficit of 12.7 percent of GDP this year. The huge public debt, estimated at 113.4 percent in 2009, is forecast to reach 120.8 percent of total economic output next year.
Samaras and Papandreou were roommates during their studies at Harvard University in the United States.