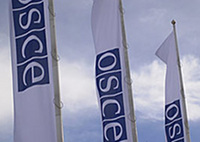 Everything will be done to allow the OSCE to resume activity in Georgia in 2010, Greek Special Representative of the OSCE Chairperson-In-Office Charalampos Christopoulos and his successor, Kazakh representative Bolat Nurgaliyev said at a meeting with Georgian Vice Parliamentary Speaker Gigi Tsereteli.
Before the meeting the guests visited the occupied territory of South Ossetia. During a meeting with the vice speaker, the situation in the conflict zone and the kidnapped teenagers were also discussed.
The guests expressed hope that the South Ossetian side will fulfill their decision to release the Georgian teens.
The sides also discussed the problems of the local population, issues of humanitarian assistance to the Georgian population living in the occupied territories and the prevention of conflicts.
One of the main topics of discussion was the future cooperation between Georgia and the OSCE. The Georgian side expressed hope that during Kazakhstan's chairmanship in the OSCE the ideas initiated during Greece's presidency will be implemented. They include creating a new mechanism called the "group of support" to fulfill monitoring functions.
"As it is known, the OSCE mission's activity in Georgia has been blocked by Russia," the vice speaker said. "We have received confirmation from the Kazakh party that everything will be done to reach certain decisions concerning the OSCE joining the Geneva process, and the prevention of conflicts. A basis must be created for the continuation of OSCE activity in Georgia in 2010."
MPs Akaki Minashvili, Giorgi Kandelaki and Dmitry Lordkipanidze attended the meeting.