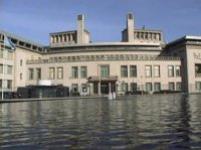 The Hague Tribunal's Registrar Pffice says Radovan Karadzic has been offered a short list of defence attorneys, because many attorneys were removed from the original list due to "previous problems".
As stated by the Registrar, 31 attorneys whose names were included in the list, were removed from the list due to a "conflict of interest", 38 attorneys did not have sufficient experience for such a complex case, 23 had previously arranged commitments and their place of residence was far from the Tribunal, which would "make the trial preparations more difficult", and 16 more attorneys were unsuitable for other reasons. 
"It could be expected that the registrar's office would limit the list of candidates to those who are really ready to take over the job of Defence attorney and do not have any other obstacles to perform the job," the Registrar said in his response to Karadzic's appeal pertaining to the appointment of Richard Harvey as his Defence attorney.
On December 7, 2009 Karadzic, former President of Republika Srpska, filed an appeal against the decision to appoint Harvey, claiming that he had not been allowed to select his own attorney and that he had been given "some list containing five of the Registrar's favourite attorneys" to select from.
The Hague Prosecution charges Karadzic, as former Supreme Commander of the RS armed forces, with genocide, crimes against humanity and violation of the laws and customs of war, committed in Bosnia and Herzegovina between 1992 and 1995.
Karadzic was arrested in July 2008. His trial began in October this year.
After the indictee refused to appear in court at the beginning of the hearing, in November 2009 the Registrar appointed Harvey as his defence attorney. Harvey will represent Karadzic as of March 1, 2010 if the indictee continues to "interrupt the further course of the trial".
Despite the fact that the Tribunal previously rejected Karadzic's against Harvey's appointment, claiming it was "deficient", he filed another appeal in December calling on the Court to annul the decision appointing Harvey as his attorney.