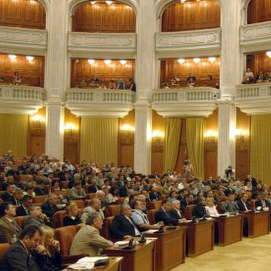 Romania's parliament will begin talks on the centrist coalition government's austere 2010 budget bill on Jan. 11, key to freeing up a 20 billion euro aid package led by the International Monetary Fund.
The IMF has said it would return to Bucharest once a budget has been approved in January and was optimistic Romania could receive its next loan tranches in February after it put disbursement on hold last month.
Together with aid from the European Commission, funds could amount to 3.3 billion euros and are badly needed to help Romania ward off a deeper recession.
"Parliament reconvenes on Jan. 11 to start the (budget) debate," opposition Liberal deputy Ludovic Orban said.
"We are reasonable people and we will try to sum up amendments and pass the bill in such a time that will allow the (IMF) board to unlock the aid tranches."
The coalition cabinet of Prime Minister Emil Boc, which took power last week, has pledged to enforce painful steps to rein in ballooning spending and has planned to get the budget through parliament by Jan. 15, which Orban said was "realistic".
The 2010 budget bill aims to cut the deficit to 5.9 percent of gross domestic product, from 7.3 percent this year. It envisages up to 100,000 public sector job cuts and a freeze on pension and wages.
Orban said legislators had until Jan. 7 to submit proposed changes to the bill. However, analysts had said they expected the bill to pass parliament unchanged, as Boc's coalition has up to five votes more than needed for a majority.
Traders have said the leu currency could firm early next year, buoyed by the expected passing of the budget and hopes that the IMF will return to the table.