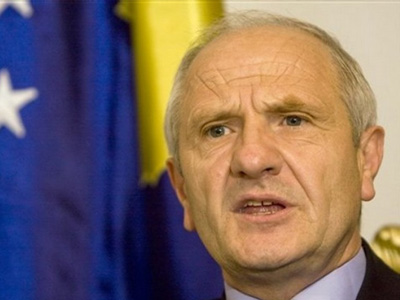 Fatmir Sejdiu says he will not invite President Boris Tadić to a "mini summit of presidents of Kosovo's neighboring countries".
"I won't invite him to a meeting of colleagues from the region. There will certainly be other occasions, but I won't invite him just for the sake of it. How do you invite a man who is using all his energy to speak against Kosovo's independence and is doing everything to thwart further recognitions," wondered the Kosovo president during a reception in Priština on Monday.
Kosovo's ethnic Albanians in February 2008 unilaterally declared independence, which Belgrade rejects as an illegal secession attempt.
Now Sejdiu says that the principled position of the leaders and institutions of Kosovo is to have "good relations with Serbia".
"We are ready for that even today, but not just for the sake of it," he said.
Sejdiu further said that he was convinced "the time will come when the president of Serbia will be invited to come to Kosovo, and the president of Kosovo will be invited to visit Serbia".
"We are always ready to invest in good neighborly relations, but never, never, never, I strongly repeat, never, to talk about subjects that they want to set to the agenda, such as new negotiations or the issue of Kosovo's status," said Sejdiu.
He also commented on the recently announced "mini summit" that was supposed to bring presidents of Albania, Macedonia, Montenegro and Croatia to Kosovo, by saying that the initiative "existed before, but there was no setting of a concrete date for the summit, however the presidents agreed to hold a summit in Kosovo in the first trimester [of 2010]", he was quoted as saying.
Reports previously said that the meeting was planned for January 8, but was canceled after Macedonian President Gjorge Ivanov annoucned he would not attend.