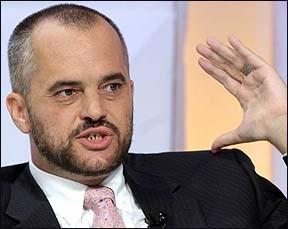 Albania's opposition Socialist Party leader Edi Rama said on Tuesday the party will stage massive protest rallies after New Year's holidays, demanding snap polls.
Rama said the Prime Minister Sali Berisha's government will face massive protests, adding that a large number of citizens will join the protest.
Rama reiterated that opposition Socialists demand the government either recount vote in a controversial June parliamentary elections or hold another.
The Socialists lost to Berisha in tight race but have not accepted the result and refuse to enter parliament unless a number of ballot boxes, ruled irregular by election authorities, are opened.
Rama blamed PM Berisha of doing nothing to stern corruption. He also said 2010 will be a tough year for Albania's economy, noting that the government withholds the negative economic outlook.
The statement came just one day after Berisha claimed that the government has made a significant progress within the first 100 days.