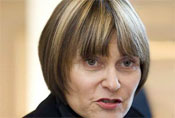 Chairperson of the Committee of Ministers of the Council of Europe, the Swiss Foreign Minister Micheline Calmy-Rey to pay visit to Georgia and Russia on January 15-17, it was announced at the Permanent Mission of Georgia to the Council of Europe on Wednesday.
January 16-17, Calmy-Rey will meet with Georgian President, the Ministers of Foreign Affairs and Integration and other officials, and representatives of political parties and NGOs.
The report says that relations between Georgia and Russia after the war in August 2008, consequences of this war, situation with refugees, the commitments taken by both countries still remain on the agenda of the Council of Europe. Calmy-Rey's visit to Georgia and Russia should be viewed in this context. During the visit the position of the parties on the situation will be clarified and views will be exchanged.
In addition, development of democracy in Georgia, the situation of human rights, as well as bilateral relations between Georgia and Switzerland will be discussed during the visit.
Due to the rupture of diplomatic relations between Russia and Georgia after the August 2008 war, the interests of these countries are represented by Swiss diplomatic missions in both states.
After a visit to Georgia, Calmy-Rey on Jan. 17 will go to Moscow to hold a working meeting with Foreign Minister of Russia Sergei Lavrov.