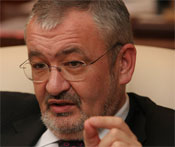 Romania said Thursday that 100,000 jobs in the public sector will be slashed as the government makes budget cuts to meet foreign loan targets and keep the economy afloat.
Finance Minister Sebastian Vladescu made the announcement as lawmakers debate this year's budget, which is crucial for unlocking an International Monetary Fund loan.
He declined to say where or by what date the cuts would be made. About 1.4 million people work in the country's public sector.
Romania needs to pass its budget to unfreeze the euro1.5 billion ($2.18 billion) installment of an IMF loan. It has agreed with the IMF on a budget deficit of 5.9 percent of gross domestic product.
After years of growth, Romania's economy was hit hard by the financial crisis last year, shrinking eight percent.
The IMF, the EU and World Bank put together a euro20 billion package in March to help Romania during the economic turmoil.
However, the loan was frozen in October after the government was dismissed by Parliament in a no-confidence vote, leading to a period of instability which was resolved after President Traian Basescu was re-elected in December.
Analysts say that the figure does not necessarily mean 100,000 people will lose their jobs as vacant jobs will not be filled and people near retirement age will not be replaced.