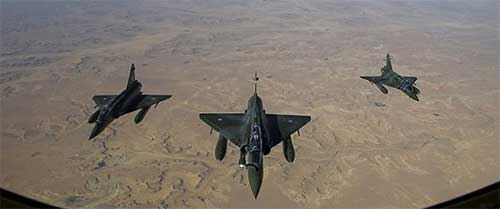 French President Francois Hollande on Thursday indicated that French airstrikes against ISIL extremists in support of Iraqi and Kurdish Peshmerga forces would take place in "a short time-frame" but would be limited to Iraqi territory.
"Reconnaissance flights have already taken place as of Monday. Others took place today from our base in the United Arab Emirates and I thank the authorities of that country for having authorised this," Hollande revealed.
"As soon as we have identified targets, we will act, that means in a short time-frame," he added, affirming that the operation was to allow Iraqi and Kurdish forces "to reduce and weaken" ISIL.
But Hollande stressed that Syria was not on the French target list as France did not want to strengthen the hand of the Damascus regime in its battle against opponents, including ISIL.
"In Syria, we condemn the regime of Bashar Al-Assad. We have done everything and we continue to do so to help the democratic opponents so they can overthrow him or find a political solution," the French leader said.
"But we cannot, despite the presence of Daash (or ISIL) in Syria, use our action for the regime of Al-Assad because Bashar Al-Assad and the terrorists perpetuate each other and have crushed anything that could representative an alternative," he stated.
He said that other anti-ISIL partners in the international coalition may be considering action in Syria but France is also attentive to the legality of any such action.