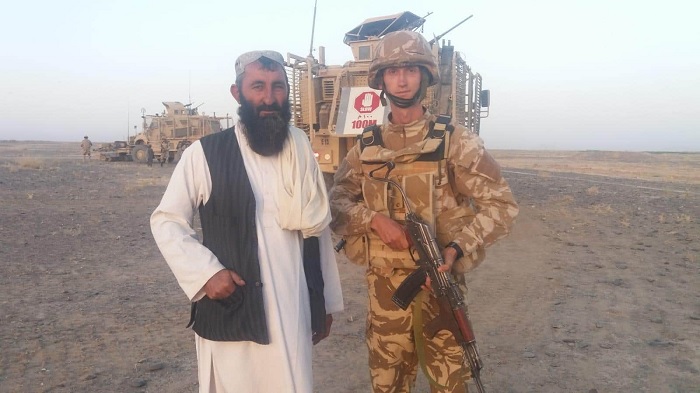 Some of the Romanian men and women who have served under NATO in Afghanistan tell BIRN why they went and what it was like.
It began with 265 soldiers and 15 medics.
Almost 19 years later, Romania's participation in NATO's mission in Afghanistan has grown to 693 troops, making the former communist country the fifth largest contributor behind military heavyweights the United States, Britain, Germany and Italy.
Successive Romanian governments have sought to leverage that commitment to win favours elsewhere, but it has come at a heavy price: 27 Romanian soldiers killed.
Critics say the reward has been limited, not least given the fact Romanians still need visas to travel to the US.
BIRN spoke to some of the Romanian soldiers who served in Afghanistan, about their reasons for signing up and the challenges and dangers they faced.
Most spoke of the "honour" to serve their country and contribute to its global standing, but were hesitant to talk too much about geopolitics.
They were more forthcoming when discussing what made them join the army and put their lives at risk in faraway lands.
Besides the extra pay of between 21,000 and 25,000 euros for a six-month deployment, the soldiers cited camaraderie, the lure of adventure and the pride of serving.
"To have fear is something natural," said Lieutenant Florin Oprea, who served in Afghanistan in 2016-17, "but the wish to be with my platoon, which I saw as a family, and to complete my mission were stronger."
'Team needs you, you need the team'
Now part of NATO's divisional headquarters for southeast Europe, Oprea and two other soldiers were wounded in September 2016 when their vehicle was struck by an improvised bomb in the southern Kandahar region, a stronghold of the Taliban.
"The greatest threat to us was the improvised explosive devices," he told BIRN.
Oprea, who attended military high school in Romania from the age of 14, suffered injuries to the head and spine and suffered a punctured lung.
He and his two colleagues were flown to the US air base Ramstein in southwestern Germany where they were treated by German doctors. A month later, Oprea returned to complete his mission and has since taken part in the Invictus Games for wounded or sick armed services personnel.
Corporal Alina Vulcan was in Afghanistan more recently, returning to Romania in February after a six-month tour.
"I always liked military uniforms, order and discipline and the fact that everyone knows what's to be done and that you are part of a team that needs you as you yourself need the team," said Vulcan.
The corporal said she had enlisted in the Romanian army in 2016, lured by the idea of serving in Afghanistan. She eventually went, guarding a US military base near the capital, Kabul, and plans to go again.
Novelty made up for the monotony of life on base and the 12-hour guard shifts, Vulcan said, but the biggest challenge was being so far away from family.
"Fear exists", she told BIRN, as much for being killed or injured in a Taliban attack as being responsible for letting a would-be attacker into the base.
Twenty-nine-year-old lieutenant Madalin Vasile, who led an army company near Kandahar, also spoke of the stress of knowing that "something bad could happen at any time" to his soldiers on patrol.
From footballer to war hero
Sergeant major Razvan Olteanu, 41, is a veteran of five overseas military missions –the first in Iraq in 2007 followed by four in Afghanistan, where in 2010 he saved a fellow soldier who risked bleeding to death from a gunshot wound to the foot and was decorated for bravery by Romanian President Klaus Iohannis.
Olteanu joined the military in 2005 aged 26, leaving behind a career in second-tier professional football.
"If by that age I hadn't reached the first division, I thought I may as well start doing something else," said Olteanu. "I didn't know what to do and decided to start from scratch in the army".
The former footballer's Afghan tours overlapped with the most intense period of the Taliban insurgency, during which he was part of a team searching for arms and suspected insurgents in scattered Afghan villages.
Olteanu recalled long walks through mountains carrying ammunition, food and water. He frequently came under fire, blaming spies within the Afghan army for giving away the plans of NATO forces.
Asked about the emotions he went through, Olteanu spoke of the power of adrenaline and the difference between fear and panic.
"Fear saves your life, while panic kills you," he told BIRN. "When you panic, you are blocked and don't react."
Individual soldiers shoulder the psychological burden differently, Olteanu said. "I think it depends on each person, no matter how physically and psychologically prepared you are".
"My wife says that when I got back home my eyes jumped everywhere as if I was searching for dangers," he said. "I was constantly alert and instinctively looking for the gun."
Stability of army life
As Romania's first ever Civil-Military Cooperation officer, CIMIC, in Afghanistan, Colonel Dan Crisan's job in 2003 was to build trust between NATO-led troops, the Afghan army and the local population through reconstruction, no small task in a country devastated by decades of conflict.
"The Afghan people have been and unfortunately remain under the pressure of permanent war," he said, "and we try to transmit to them that we are there in a reconstruction mission."
Captain Bogdan Stelian Stoichita followed in Crisan's footsteps, having just returned from his own first tour as a CIMIC in Afghanistan.
A graduate of a Japanese military school, Stoichita said building an honest and open relationship with Afghan forces and the local population was vital.
"It makes the difference between our [Afghan] partner informing us or keeping quiet when he sees a suspicious person in the area, for example", he told BIRN. "We also have to identify if they need roads, running water, electricity."
Stoichita recalled how his Romanian CIMIC predecessor broke military etiquette by growing a long beard, earning the criticism of his colleagues but the trust of a spiritual leader of the Afghan troops. Stoichita inherited the access to the spiritual leader, helping him to address problems more quickly.
To Stoichita, as to Olteanu and others, the military offered stability, no matter how it might look to those outside. Recalling how he enlisted in 2002, lacking the money out of high school to study architecture, Stoichita said:
"When you know you have a stable job you have fewer worries and you can concentrate on growing professionally and developing your expertise."
Asked why he signed up, Olteanu replied: "We all look for stability in life."