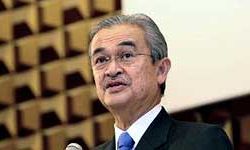 TEHRAN (FNA)- Malaysian Prime Minister Abdullah Ahmad Badawi prepares to visit Tehran to conduct business negotiations with senior Iranian officials.
The prime minister is visiting Iran to discuss cooperation on possible economic ventures between the two countries, Malaysian media outlets quoted Malaysian Foreign Minister Rais Yatim as saying on Wednesday.
The discussions between Abdullah Ahmad Badawi and Iranian officials will focus on areas such as education and the housing sector, he added. Malaysia needs to explore the scope for joint business projects that are not subject to UN Security Council sanctions against Iran, said Rais.
The Malaysian prime minister's visit to Iran comes at a time when the United States and other Western powers are trying to take advantage of the dramatic fall in oil prices. Western states want to increase economic pressure on Tehran in an attempt to force it into giving up its legal right to enrich uranium.
So far, the US and the other permanent members of the Security Council plus Germany have managed to pass four resolutions against Iran concerning a halt of enrichment activities. This is despite the right reserved for members of the nuclear Non-Proliferation Treaty (including Iran) to conduct such activities in the context of a civilian atomic program.
All reports released by the International Atomic Energy Agency have so far confirmed Iran's assertions that the country's nuclear program – the nuclear program currently most-inspected by the Agency – has not made any diversion toward weaponization.
Muslim countries that conduct business with Iran, such as Malaysia and the United Arab Emirates, are under increasing pressure to decrease their business transactions with Iran.
In January, the head of a committee reporting to the US Congress called on the representatives to halt trade negotiations with Kuala Lumpur after Malaysian SKS Ventures reportedly signed a preliminary deal with Iran to develop the country's Golshan and Ferdows gas fields.
However, a Malaysian firm recently signed a six-year contract with Iran's Hampa Engineering Corporation for the construction of a petrochemical complex despite such pressure.
The complex, which will require 5 billion Euros to complete, will produce gasoil, gasoline, jet fuel, LNG and raw materials for the petrochemical industry in the Malaysian state of Terengganu.