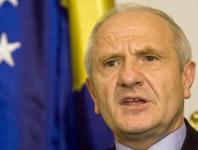 The UN's Six-Point Plan for Kosovo is not obligatory since it does not outline what will happen if the plan is not implemented, Kosovo's President Fatmir Sejdiu claims.
Instead, Sejdiu advocates the superiority of the four-point plan proposed by the Kosovo government.
"Pristina's stance (the Four-point plan) is referred to in the report of the Secretary General of the United Nations," he told Prague-based Radio Free Europe.
The President also commented on the European Union's law-and-order mission, EULEX, stating that it "will have a European mandate" but will also take into consideration that "the Republic of Kosovo's constitution will be the fundamental determinant which will be respected as the legal framework."
Sejdiu also states that these determinants need to be taken into account by Belgrade officials in order for dialogue to begin between the two sovereign nations.
"The issue of the free movement of citizens, the prevention of organised crime, economic cooperation, energy and other fields, and moving ahead together as two sovereign nations in the process of integration," are the issues the president insists Kosovo's institutions are ready to discuss with their neighbours.
All dialogue between Belgrade and Pristina has been mediated by the international community since the end of the conflict in 1999.
Kosovo's political authorities insist that EULEX will have the full support of Kosovo, even though it is being deployed under the United Nations six-point plan, which Pristina has resisted because it addresses Serbia's concerns about the mission.
Pristina in its rival four-point plan, had urged the mission to take the responsibilities in accordance with Kosovo's Constitution and the blueprint for Kosovo's independence as drafted by former United Nations envoy, Martti Ahtisaari.
Kosovo Serbs are reluctant to accept the deployment of the EU's new law-and-order mission, EULEX, despite Belgrade's willingness to give the mission the green light.
Earlier the United Nations Security Council unanimously adopted Secretary General Ban Ki-Moon's report on wrapping up the world body's mission in Kosovo and begin the handover to a EU mission.
But Kosovo, which unilaterally declared independence from Serbia in February and has been recognised by most European Union member states, is against the plan because it is based on UN Security Council Resolution 1244.
This resolution, passed at the end of the 1998-1999 conflict between Serb forces and Kosovo's ethnic Albanian majority, refers to Kosovo as Serbia's southern province, not as an independent state.
Serbia insists that the EU cannot deploy a new civilian mission in Kosovo to replace the UN administration unless the mission is neutral in status and does not put into action the Ahtisaari plan.
The plan envisages the gradual replacement of the administrative UN mission in Kosovo, UNMIK, which has been in the province since 1999, with an EU civilian mission of police and court officials.