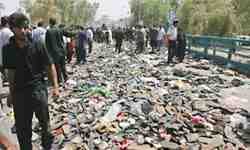 TEHRAN (FNA)- A female suicide bomber killed at least 40 people, many of them Iranian pilgrims, and wounded scores more when she blew herself up amid a crowd of Shiite worshippers outside a shrine in Baghdad yesterday.
The attack was the second major bombing since US forces came under Iraqi Government authority on January 1. It also occurred as Iraqi leaders expressed confidence in their ability to defend Iraq at a ceremony to mark Army Day.
The bomber, dressed in a traditional black Islamic robe, targeted a checkpoint outside the Imam Moussa al-Kazzem shrine in Kazzemeyn, northeast Baghdad, as Shiite Muslims prepared to commemorate the death of Imam Hossein, the grandson of the Prophet Mohammed (PBUH) and the third Shiite Imam, at a key religious holiday this week.
Sunni Islamist extremists such as al-Qaeda have repeatedly targeted the annual event following the 2003 invasion.
Body parts littered the street outside the shrine as ambulances scooped up the injured and the dead. At least 79 people were wounded.
Mohammed Khathami, 40, who owns a shop in the area, came running to the scene after hearing a loud explosion.
"Most of the people killed were Iranians," he told The Times.
An overall drop in violence across the country has enabled pilgrims from Iran to venture across the border to visit important religious sites in Iraq, a journey they had been prevented from making during years of war and hostilities between the two neighbors under Saddam Hussein.
Major-General Qassim Moussawi, a spokesman for security in Baghdad, confirmed that many Iranians were among the casualties. An Interior ministry source put the number of Iranians killed at 17.
Onlookers were puzzled as to how the bomber penetrated tight layers of security around the shrine, which has been attacked several times in the past.
"We saw many checkpoints in the area, but this woman somehow got around them and blew herself up," said Kathami, the shopkeeper.
A Shiite cleric called on Iraqi security forces to be more alert.
"The Iraqi people will not bow down to such crimes. We'll teach those people who did this unforgettable lessons," Mohammed Taqi al-Mudarisi said in a statement from his office in the holy Shiite city of Najaf, south of Baghdad.
Adel Abdul Mahdi, the Vice President of Iraq, blamed groups linked to al-Qaeda.
"Al-Qaeda has no place in Iraq," he said in a statement. "Their dark hatred against Iraqi people will only increase their solidarity and resolve to defeat terrorists, criminals and killers."
The extremist group is accused of using female bombers to conduct attacks because women can more easily pass through checkpoints, usually guarded by men, without being searched. Explosives are also simple to conceal under the flowing gowns often worn by Muslim women in Iraq.
The latest bombing, at around 11am, failed to deter other pilgrims from visiting the Kazzemeyn shrine afterwards to carry out ritualistic wailing and mourning.
In addition, hundreds of thousands of Shiite Muslims, including many from Iran, will travel to Karbala, a second hold city near Najaf, over the coming days to mourn the death of Imam Hossein in a 7th century (AD) battle. These events are part of the (the Arab-calendar month of) Moharram ceremonies that climax on Ashura (the 10th day of Moharram when Imam Hossein, along with his family members, relatives, companions, friends and soldiers, was martyred), which this year falls on January 7.
Security will be vigilant along the route. At least 20,000 security agents will be deployed throughout Karbala, along with sniffer dogs, snipers and an anti-riot unit. Almost 200 people were killed in coordinated strikes in Karbala and Kazzemeyn in 2004.
Elsewhere in Baghdad, Jalal Talabani, Iraq's President, gave an upbeat message at a ceremony in the fortified Green Zone to mark the 88th anniversary of the Army.
"Today we are more optimistic and hopeful because the new democratic Iraq will be an example for the region, in building democracy and the state of law," he said. "The army will defend the unity, people, soil and sky of Iraq."
Iraqi police and soldiers have the lead on security as US forces prepare to consolidate on large bases away from towns and cities by the middle of the year, with a view to leaving Iraq completely by the end of 2011 under a security agreement between Baghdad and Washington that took effect on January 1.