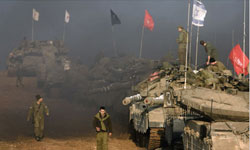 TEHRAN (FNA)- Israeli tanks were forced to stop in the Gazan towns of Jabalia, Beit Hanoun and Zeitoun amid a full-scale ground incursion into the strip.
On the third day of its ground invasion into the Gaza Strip, Israeli tanks were brought to a stop in Jabalia, Beit Hanoun and Zeitoun. Israel has managed to station its forces in Hay al-Zeitoun district and have thus split the strip into a northern and southern part.
Israeli ground forces have also entered Rafah city in the south of the Gaza Strip and have been striving to cut Gaza from Egypt.
In the latest development on Monday, an Israeli tank shell killed three children in their home in eastern Gaza City, medical officials have confirmed, press tv reported.
They said several other Palestinians were wounded in the incident, which occurred in the al-Zeitoun neighborhood in Gaza.
On Monday, Hamas fighters fired more rockets into Israeli cities despite the intensified air and ground strikes on the impoverished strip.
An Israeli officer and five soldiers were also wounded early Monday in eastern Gaza in ongoing clashes between Israeli forces and Hamas fighters.
Israeli Staff Sergeant Dvir Emanueloff was among Israelis killed in action in previous clashes on Sunday.
Israeli infantry backed by Merkava tanks and Apache helicopters poured into Gaza late on Saturday after eight days of deadly air strikes.
The troops clashed with Hamas fighters and fierce battles raged in four spots in the north, around Gaza City, Beit Hanun, Beit Lahiya and Jabaliya.
According to the reports, at least 40 Israeli soldiers have been either killed or wounded during the clashes since Saturday.