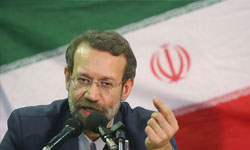 TEHRAN (FNA)- Iranian Parliament speaker Ali Larijani plans to travel to Turkey to attend the Islamic Inter-Parliamentary Association (IPA) meeting, a lawmaker said on Sunday.
The meeting will be held next Wednesday to discuss the Israeli offensive in the Gaza Strip, Rapporteur of the parliament's National Security and Foreign Policy Commission Kazem Jalali told MNA.
According to Iran Daily, Turkish Parliament speaker Koksal Toptan in a telephone conversation with Larijani had said that the Turkish national assembly was willing to take more effective steps toward Gaza crisis and wants to hold consultations with Iranian lawmakers to convene an emergency meeting of the IPA executive committee in Turkey.
Jalali went on to say that 9 countries constitute the executive committee members of the IPA: 3 Asian countries of Turkey, Iran and Azerbaijan; 3 Arab countries of Saudi Arabia, Algeria and Egypt; and 3 African countries of Chad, Benin and Mali.
Jalali added other IPA members will be invited to attend the meeting too.