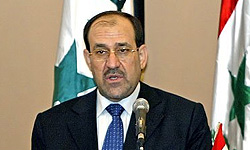 TEHRAN (FNA)- Iraqi Prime Minister Nouri al-Maliki underlined that Baghdad will take legal action against the terrorist Mojahedin-e Khalq Organization, and assured Tehran that Iraq will no longer tolerate MKO terrorists.
Speaking in a meeting with Iranian Foreign minister Manouchehr Mottaki in Tehran on Saturday, the Iraqi premier also vowed to provide Iranian pilgrims with more facilities and release the Iranian diplomats from illegal detention in Iraq.
Maliki pointed out cementing ties with the Islamic Republic of Iran is his country's priority in efforts to strengthen relations with regional countries.
Thus Iranian and Iraqi officials will willingly try to overcome any obstacles on the way, MNA quoted him as saying.
He insisted that the Iraqi government will enforce the laws in regard to the presence of terrorist groups in Iraq.
The Iraqi government took over the control of Camp Ashraf home to 3,500 MKO members on January 1, as part of a bilateral security deal between the US and the country.
Iraqi officials will try to resolve the issue of Iranian detainees, he added.
US forces broke into the Iranian consulate in Iraq's Kurdish city of Arbil on Jan. 11, 2007, detaining three Iranian diplomats.
Mottaki hoped that the agreements between Tehran and Baghdad will pave the way for establishing comprehensive relations between the two countries.