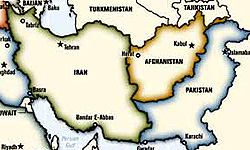 TEHRAN (FNA)- The arrest of two key Taliban commanders has raised hopes among the authorities for recovering the Afghan and Iranian diplomats missing since last year, Pakistani officials said.
"If the two commanders' release can help recover the two missing diplomats, the federal government may allow authorities to go ahead with the plan," the officials told Daily Times. Security forces arrested senior Taliban commander Ustad Yasir on January 3, and Mustafa Kamal Kamran Hijrat, wanted by the Pakistani government for attacks on NATO truck terminals in Peshawar, on December 9. Both are Afghan nationals.
Both arrests were made from the Hayatabad residential area, according to senior security officials.
Commercial attaché of the Iranian Consulate, Hashmatollah Attarzedeh Niyaki, was kidnapped by armed men in Hayatabad district in Peshawar on November 13 last year and Afghan ambassador-designate to Pakistan Abdul Khaliq Farahi was abducted in the same district on September 22 last year.
In the November incident, terrorists killed the driver of the Iranian diplomat.
"There is pressure on Pakistan to secure the release of the two missing diplomats from Iran and Afghanistan. A single day does not pass when the Iranian and Afghan diplomats do not visit the governor, the chief minister or the head of intelligence networks to seek progress," the officials said.
It was proposed to use the two arrested Taliban commanders as a "bargain chip" to win freedom for the missing diplomats, the officials added.
NWFP Police chief Malik Naveed suspected Mustafa Kamal's "involvement" in Farahi's abduction.
A security official said the two arrested Taliban commanders were not wanted by the United States, adding, "The best use of the two men can be their exchange with the missing diplomats' who appear to have been abducted by the Taliban than simple kidnappers."
The government in Islamabad has not formally acknowledged reports saying the two senior Taliban commanders were taken into custody but it has not denied the reports either.
If the authorities free Ustad Yasir in return for the recovery of either the missing Afghan or Iranian diplomat or both, it will be the second time that the Taliban commander would get a new lease on life.
He was first arrested in the NWFP in 2005 and handed over to Kabul. The Afghan government released him from Kabul's Pul-e-Charkhi prison in exchange for the abducted Italian journalist Daniele Mastrogiacomo in early 2007.