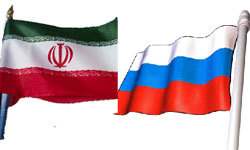 TEHRAN (FNA)- The Iranian envoy to Russia said delays in completion of Iran's first nuclear plant in the southern city of Bushehr are not only Russia's fault.
Mahmoud Reza Sajjadi stressed that Russia is committed to complete the plant, despite the pressure on Moscow to halt the project, the Islamic republic news agency reported on Tuesday.
The Iranian ambassador to Moscow noted that some other countries that made commitments to provide equipment required for the plant have not met their obligations on time.
Asked if Russia would be awarded contracts to construct more nuclear plants in Iran, Sajjadi stated that Russia has a greater chance compared to other countries.
The head of AtomStroyExport, Russia's nuclear power equipment and service export monopoly, recently told the Islamic republic news agency that the number of its experts at the Bushehr nuclear plant has been increased to 1,800 from the previous 1,000 to accelerate the process of completing the project.
Iran and Russia signed an agreement on nuclear cooperation in 1992, and AtomStroyExport signed a contract in January 1995 to build Iran's first nuclear power plant in Bushehr.
The plant was originally scheduled to come on stream in 1999, but the project has faced numerous delays.