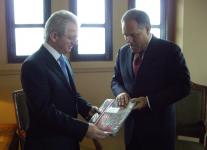 Panama has officially recognized Kosovo as an independent state, Kosovo's ministry of foreign affairs said on Friday.
This makes Panama the 54th country to recognize Kosovo, whose Albanian majority seceded from Serbia on February 17 last year. The United States and most European Union countries have already recognised it.
Panama's Foreign Minister Samuel Lewis Navarro told Kosovo foreign minister Skender Hyseni in a meeting that an official notification of recognition would be submitted to Kosovo's ambassador to the United States, Avni Spahiu.
Before the New Year, Hyseni said the government expected a new wave of recognitions in 2009. Serbia has vowed to never recognise its former southern province as an independent state and has blocked Kosovo's entry into the United Nations and other international organisations.