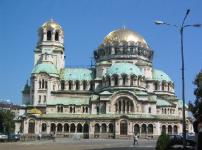 A second day of protests by Bulgarian university students, environmental activists, farmers and pensioners ended peacefully outside the parliament building on Thursday, a day after demonstrators clashed with police and 158 people were detained.
The January 15 protest, advertised by organisers as an outlet to express discontent at the way Bulgaria is run, was well guarded by the police with checkpoints, meant to prevent criminals and troublemakers from joining the protests, to check people's identity documents and search for weapons.
On January 14, a group of 15-20 people wearing scarves started throwing snowballs, and then stones, at police. Tensions rose quickly and when a municipal order was given to cut short the protest because of a bomb warning, there were clashes and arrests as police dispersed the crowd.
Some 15 MPs from the opposition joined the protests on Thursday, saying that they believed that their presence would discourage police from using force on protesters, Bulgarian daily Dnevnik said.
Protest are also scheduled for the morning of January 16.