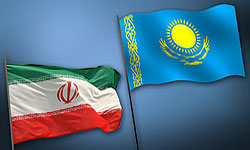 TEHRAN (FNA)- Executive Director of the Conference on Interaction and Confidence Building Measures in Asia (CICA) Dulat Bakishev made a working visit to Jordan, the United Arab Emirates and Iran from January 8 to 14.
The visit aimed at a discussion of the issues of interaction within the CICA, Kazinform reports.
In Tehran the Executive Director made a courtesy visit to the Iranian Foreign Minister Manouchehr Mottaki.
During the meeting, the Iranian side reaffirmed its intention to continue its active participation in realization of the confidence-building measures within the Conference.
Being a coordinator country Iran plans to hold a meeting of the CICA experts for elaboration of action plans in struggle against illegal drug traffic and management of the national emergency situations.
Iran also voiced enthusiasm for participating in interactions over energy security and development of secure and efficient transport corridors.
later during his tour, Bakishev discussed current activity and oncoming events within the CICA at a meeting with Jordan's deputy foreign minister and the United Arab Emirates' state minister for foreign affairs.
The parties considered expansion of roles of these two new member states in the work of the CICA. Jordan and the UAE got the status of full-fledged members of the Organization at the III meeting of the foreign ministers of the CICA member countries in 2008.