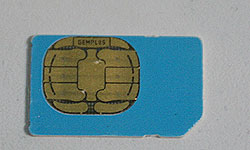 TEHRAN (FNA)- Etisalat, the United Arab Emirates' largest telephone company, will be able to earn as much as $1.6 billion in revenue from its Iranian mobile-phone operations in five years, ING Groep NV said.
The price of $398 million paid by the company and the local partner "seems too good to be true," Dubai-based Sarwat Hassan wrote in an e-mailed statement on Wednesday.
Assuming a minimum network investment of $4 billion, "Etisalat can gain about 20 per cent to 25 per cent market share over five years of its operations." Abu Dhabi-based Etisalat and Tamin Telecom, the telecommunications investment arm of Iran's social security and pensions department, will gain exclusive rights for two years to offer second- and third-generation services in Iran.
The shares of Etisalat rose 2.4 per cent, the most since January 5, to Dh10.9 at the close in Dubai on Wednesday, giving the company a market value of Dh65.3 billion ($17.8 billion).