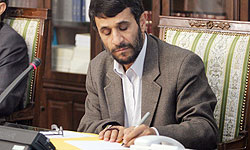 TEHRAN (FNA)- Iranian President Mahmoud Ahmadinejad in a message to an international conference on supporting Palestinian resistance urged the United Nations to fulfill its responsibility to stop Israeli massacre in Gaza.
"I urge the UN Secretary General and the Security Council to do their International and legal duties and responsibilities on the basis of the UN Charter and to adopt binding and strong actions in a bid to stop witnessing continued massacre of the defenseless people," Ahmadinejad said in his message to the 'International Forum on Supporting Resistance'.
"The racist Zionist regime uses hi-tech weapons and the latest and most destructive bombs to uproot the defenseless and oppressed women and children of Gaza who have been under the most cumbersome economic embargo for more than one and a half years," he said.
Stressing on the Islamic Republic's support for the Palestinian people's rights, he urged for an immediate stop of Gaza occupation, removal of the siege of Gaza Strip, opening of all passages and boycott on products manufactured by Israel and its allies.
"And (Iran) underlines the need for trying the war criminals for genocide in Gaza and compensating all physical and moral damages to the defenseless people of Gaza," Ahmadinejad continued.
Iranian President also called on the Palestinian people to continue their way and resistance.
Since the Israeli onslaught started on December 27, over 1,300 Palestinians have been killed and over 5,320 others have been wounded in the impoverished Palestinian region.