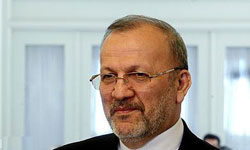 TEHRAN (FNA)- Iranian Foreign Minister Manouchehr Mottaki Sunday called for a complete withdrawal of Israeli troops from the Gaza Strip, stressing that just ceasing fire by the Israeli military is not enough.
"A mere halt of aerial, naval and ground attacks without a pull-out of the forces from the occupied positions is not enough to stop clashes," Mottaki said.
"Withdrawal of Israeli forces from the occupied territories is necessary," he reiterated.
The Iranian top diplomat underlined that remaining of forces in the occupied areas is automatically provocative and would not guarantee a halt in clashes.
"It is obvious that opening of the crossings along with the withdrawal of Zionist forces would pave the way for establishment of tranquility."
Israel announced on Sunday a unilateral ceasefire after pounding Gaza for 22 days, which has claimed the lives of more than 1,300 Palestinians.
Mottaki also announced that Israeli decision to end the conflict was indication of Tel Aviv's failure in achieving its stated objectives and was a victory for the Islamic resistance and victorious people of Gaza.