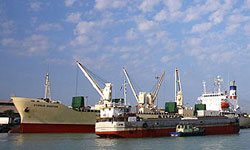 TEHRAN (FNA)- Captain of Iranian cargo ship, carrying Iran's aid to Gaza, stressed that his vessel will wait in international waters until its mission is accomplished.
"We will be waiting until we accomplish the mission. Our objective is to deliver the cargo to the Gazans," Goudarz Qaleh-Golab said.
"We started moving toward the Gaza port three days ago under the escort of Israeli Navy ships. We were then returned to international waters," the captain of the Iranian ship Shahed told press tv on Saturday.
"I hope that we will be able to deliver the cargo either through Gaza or an Egyptian port in the next few days, with the promises which have been given to us," Qaleh-Golab said.
"Iranian consulate is pursuing the case negotiating with Egyptian officials to persuade Israel to allow the humanitarian cargo entry into Gaza," Captain Qaleh-Golab added.
"I hope they (Israelis) will be able to come to a good decision," he stated, saying he expects to dock in Gaza in the next two days.
On Wednesday, Israeli naval forces intercepted the Iranian ship holding an estimated 2,000 tons of medical and food supplies for the crisis-stricken people in Gaza, 20 miles off the coast.