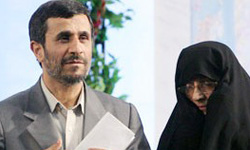 TEHRAN (FNA)- Iranian First Lady Azam al-Sadat Farahi, in a letter to her Egyptian counterpart, asked for her help to facilitate aid delivery to Palestinians.
"Witnessing the dead bodies of women and children is painful and even worse is that some governments in Arab and Islamic countries do not support the oppressed people in Gaza," Ahmadinejad's wife wrote.
"You could ask your spouse and his administration to prevent worsening of the humanitarian catastrophe by opening the way for aiding Palestine's people," she urged referring to Hosni Mubarak.
She reiterated that she expected Suzan Mubarak to employ all her might and power to aid Gazans and relieve the suffering of people of Gaza.
Around 1,300 Palestinians have been killed and nearly 5,320 others have been wounded in the beleaguered Gaza strip since December 27.