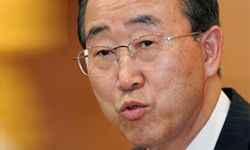 TEHRAN (FNA)- UN Secretary-General Ban Ki-moon, in a statement issued on Saturday in Beirut, expressed satisfaction over the decision to cease hostilities in the occupied lands.
According to a press release issued by the UN Information Center (UNIC) in Tehran, the full text of the UN chief's statement is as follows:
"I am relieved that the Israeli government has decided to cease hostilities as of midnight GMT.
"This should be the first step toward establishing a durable and sustainable ceasefire leading to the full withdrawal of Israeli troops from Gaza , as called for by the Security Council resolution 1860. Hamas must stop firing rockets now.
"Urgent humanitarian access for the people of Gaza is the immediate priority.
"The United Nations is ready to act.
"Any durable solution must include the reopening of the crossings and the prevention of illicit trafficking in arms.
"There has been too much suffering, for too long. We have to end it now.
We must begin to help people rebuild their lives."