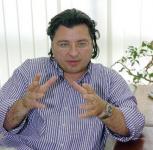 Macedonia's main opposition party, the Social Democrats, on Monday proposed university professor and former Foreign Minister Ljubomir Frckoski as the party's candidate for the March 22 presidential election.
The party will formalize Frckoski's candidacy on a convention later during the day, Social Democrats acting President Zoran Zaev told reporters at a press conference.
"We decided to endorse a candidate with political attitude and experience" Zaev told media.
Last night, the ruling centre right VMRO DPMNE party also picked its candidate, Frckoski's colleague at the Skopje law faculty, Georgi Ivanov whose candidacy is his first political engagement.
Frckoski was Foreign Minister in the government led by the then PM and current President Branko Crvenkovski in 1996-1997. Before that he was Interior Minister in one of Crvenkovski's previous governments.
In recent times he was well known in public for his newspaper columns criticizing the current government. In December Frckoski lost a slender case against him filed by the the PM and VMRO leader Nikola Gruevski and was fined around €30,000.
The Social Democrats first proposed to VMRO the prominent diplomat Srgjan Kerim as a non partisan candidate that should be backed by both parties. After VMRO refused the idea, Kerim pulled out.
Frckoski so far also gained support by the smaller opposition New Social Democratic Party, NSDP.
Opinion polls show support for the ruling party is currently double to that of the opposition, with analysts saying the VMRO DPMNE candidate has the biggest chance of becoming the next head of state.