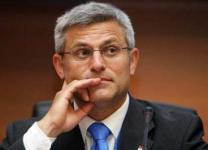 Serbia's dinar currency hit a record low on Monday, with its official middle exchange rate at 95.4564 dinars to the euro, a drop of some seven percent this year.
Other emerging market currencies such as Hungary's forint, Romania's leu and Poland's lek have suffered since the onset of the global financial crisis, but the dinar has been hit particularly hard, losing more than 20 percent of its value due to investor flight.
The central bank intervenes almost daily to contain its losses, but with little effect. It has said it plans to update banks' reserve requirements by mid-February to improve dinar liquidity, which banks could use for reapyment of loans.
The bank is also considering the introduction of a facility that enables commercial banks to exchange dirans for hard currency and vice versa with the central bank, so as to avoid the exchange rate swings that large trades could cause.