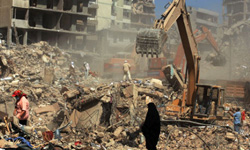 TEHRAN (FNA)- Thousands of Gazans remain homeless and hospitals still have a large number of intensive care patients, UN Information Center said on Tuesday.
"At this stage, the initial response is focusing on the re-establishment of basic services to the population of Gaza, including water, health, food, cash assistance, education and psychosocial support," the UN Office the Coordination of Humanitarian Affairs (OCHA) said Monday.
This includes safety of movement by marking and clearing unexploded ordnance, removing rubble, repairing priority infrastructure, and securing access to services. Although fewer than 500 displaced people remain in three UN Relief and Works Agency for Palestine Refugees in the Near East (UNRWA) emergency shelters, most displaced Gazans are staying with host families who are overstretched and face shortages of food, non-food items such as mattresses and blankets, and water and electricity.
According to Islamic republic news agency, hospitals are gradually finding capacity for routine care for chronically ill patients who are now returning for treatment.
Repair of medical equipment, already a priority before the conflict when Israel's closure of crossing points hindered import of necessary spare parts, remains a priority, as does the import of spare parts. Some people still have no access to piped water and the sewerage network in parts of Gaza is still damaged.
The UN Children's Fund (UNICEF) has warned that continued shortage of drinking water and overflowing sewage in some residential areas poses serious health risks, and immediate assistance is needed to rebuild the infrastructure, including pipes, generators and pumps. Spare parts and other equipment are also needed for the electricity sector.
All 10 UNRWA distribution centers are open, feeding 25,000 people per day, and the UN World Food Program (WFP) has distributed 95 tons of food aid to 993 families (nearly 6,000 people) in Gaza City and North Gaza. All schools opened on Saturday, with an 80 per cent attendance rate in government schools and 89 per cent at UNRWA schools, and there is a focus on psychosocial and mental health support for students, with UNRWA fielding 185 counselors.
OCHA cited Gaza's most critical needs as spare parts and fuel for the power plant, hospitals and water and sewage treatment facilities, and cement, sand and other construction materials to rebuild the destroyed schools, hospitals, clinics and homes. It added that it was critical that full and unhindered humanitarian access to Gaza be granted immediately by all parties to the conflict. International agencies have faced unprecedented denial of access to Gaza since 5 November, it said. Although a small group was allowed in on 23 January, humanitarian access remains unreliable and needs to be granted every day without restriction.
Meanwhile, renowned musician Yusuf Islam (formerly known as Cat Stevens) Monday released a charity song (http://www.jamalrecords.com/cgi-bin/commerce.cgi?display=home), with all proceeds going to UNRWA, which aids 750,000 Palestinian refugees in Gaza, and the non-governmental organization Save the Children. Mr. Islam said he hoped the song, "The day the world gets round" originally recorded by George Harrison, will "help remind people of the immense legacy of love, peace and happiness we can share when we get round to looking at mankind's futile wars and prejudices, and start to change our foolish ways."