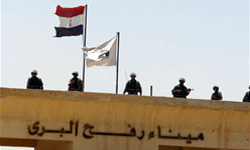 TEHRAN (FNA)- Iran is conferring with the Egyptian government on opening Rafah border crossing and paving the way for Iranian aid vessel to dock in Gaza coast, a lawmaker said here on Wednesday.
"A number of Iranian MPs are leaving for Gaza to confer about opening of Rafah crossings and docking of Iranian humanitarian aid vessel in Gaza," member of the parliament's National Security and Foreign Policy Commission Mahmoud Ahmadi Bighash told FNA.
Noting that Iran in no way will return its vessel, he lamented, "As Egypt and some Arab countries think that Iran has gained triumph in the Gaza war while they have lost fame in the eyes of the international community for supporting the usurper Zionist regime, they try to stop Iranian humanitarian aid vessel in an effort to deter Iran from gaining a second victory."
"Israel also has announced that it doesn't accept any Iranian aid for Gaza and urged Egypt to follow suit," he continued.
Meantime, the captain of the Iranian cargo ship, carrying Iran's aid to Gaza, has earlier stressed that his vessel will wait in international waters until its mission is accomplished.
"We will be waiting until we accomplish the mission. Our objective is to deliver the cargo to the Gazans," Goudarz Qaleh-Golab said.
Elsewhere, the lawmaker referred to the negotiations between Egypt and the anti-Iran terrorist group, the Mojahedin-e Khalq Organization (MKO), and said, "Unfortunately, the improper action taken by the EU regarding the Monafeqin (the Hypocrites, as MKO is referred to in Iran) has incited the countries that don't have good relations with Iran to shelter the Monafeqin."
He warned Egypt against taking the action, saying that in case Cairo embarks on doing so, the Islamic Republic will strongly confront the African country.
The European Union decided Monday to remove the anti-Iran terrorist group, the Mojahedin-e Khalq Organization (MKO), from its blacklist, a move which caused angry demonstrators to pour to the streets in Tehran.
The 27- nation bloc's foreign ministers, meeting in Brussels, decided to drop MKO from the blacklist. The MKO had been blacklisted as a terror organization by the EU since 2002.
The MKO, whose main stronghold is in Iraq, is blacklisted by much of the international community, including the United States.
The MKO is behind a slew of assassinations and bombings inside Iran, a number of EU parliamentarians said in a letter last year in which they slammed a British court decision to remove the MKO from the British terror list. The EU officials also added that the group has no public support within Iran because of their role in helping Saddam Hussein in the Iraqi imposed war on Iran (1980-1988).