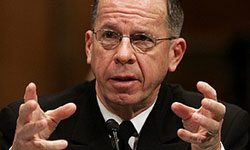 TEHRAN (FNA)- Chairman of the US Joint Chiefs of Staff Admiral Michael Mullen said on Tuesday that US can hold dialogue with Iran over Afghanistan.
Mullen underlined that the US can hold dialogue with Iran and find some mutual interests in Afghanistan and such talks "could be useful".
"With respect to Afghanistan, a regional approach is critical. Iran, as a bordering state, plays a role as well" said Admiral Michael Mullen.
"There is a potential there for moving ahead together but I really leave that to the diplomats," AFP quoted Mullen as saying.
Earlier, NATO Secretary General Jaap de Hoop Scheffer and the commander of US forces in the Middle East General David Petraeus, also echoed the same appeals.
Scheffer said on Monday that all Afghanistan's neighbors, including Iran, must be engaged if the West wants to succeed in Afghanistan.
"To my mind, we need a discussion that brings in all the relevant regional players: Afghanistan, Pakistan, India, China, Russia, and yes, Iran. We need a pragmatic approach to solve this very real challenge," he told a seminar of the Security and Defense Agenda, a Brussels-based think-tank on Monday.
Mullen also called potential military option against Iran a "last resort" on the table.
Iran is an important neighbor of Afghanistan and has great influence on Afghanistan both culturally and economically. But regional heavyweights such as Iran, India and China have not been much engaged.