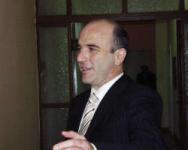 Macedonia's two ethnic Albanian parties, the ruling Democratic Union for Integration, DUI, and the opposition Democratic Party of Albanians, DPA, picked their own presidential candidates for the March 22 elections, pushing the total number of presidential hopefulls to ten.
DUI picked its vice president Agron Buxhaku as the party's sole candidate.
This was seen as a surprise as DUI leader Ali Ahmeti previously hinted it would support the candidate of its larger coalition partner, the centre-right VMRO DPMNE, proposing that in return they agree on endorsing an ethnic Albanian President on the next polls set for 2014.
"The majority of the party presidency now thinks that we should have a candidate of our own because Ahmeti's suggestion was misinterpreted by all parties in the ethnic Macedonian block", DUI's other vice president told media prior to the party meeting where Buxhaku was picked. 
DPA also shifted from its previous position not to launch its own candidate, and nominated university professor Mirushe Hoxha as its pick.
The entry of two more candidates in a crowded field could complicate things for the VMRO candidate, university professor Georgi Ivanov. Ivanov is seen as the favourite due to the vast support for the ruling party over the main opposition Social Democrats, but experience from previous elections shows that the support of the 25-percent Albanian population is crucial and can swing results.
Ivanov's main rival is the Social Democrat's pick, university professor Ljubomir Frckoski, a former Interior and Foreign minister in the previous governments of the current head of state, Branko Crvenkovski.
The recently acquitted war crimes indictee and VMRO veteran Ljube Boskoski is also seen as a candidate that could steal away a substantial part of the party's traditional voters and thus also endanger Ivanov's victory.