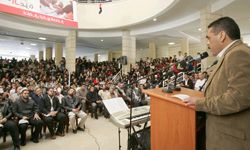 TEHRAN (FNA)- Former Lebanese captive Samir Kantar said that Iran's 1979 Islamic Revolution breathed new hope to Muslims and the whole Arab world.
Kantar who spent 29 years in the Zionist regime's prisons was released in July 2008 as part of a prisoner swap between Lebanon and the usurper regime.
He arrived in Iran on Wednesday to attend the annual Daheyeh Fajr celebrations which this year mark the 30th victory anniversary of the Islamic Revolution in Iran.
Iranians commemorate the historic event each year celebrating for a period of ten days dubbed 'Daheyeh Fajar (Ten-Day Dawn).
The Islamic Revolution reached its final stage on February 1, 1979, when the father of the revolution, the late Imam Khomeini, arrived at Mehrabad International Airport from a long exile and was greeted by millions of enthusiastic well-wishers.
Speaking to the Islamic republic news agency exclusively, Kantar said that the Arab world had faced a "spiritual gap" after the former president of Egypt, Anwar Sadat, signed an agreement with his counterpart from the Zionist regime, Menachem Begin, on September 17, 1978, in the Camp David in the United States.
The agreement led directly to a peace treaty between the two sides.
However, Kantar said that the victory of the Islamic Revolution in Iran gave a new hope to world Muslims "as the Islamic Republic of Iran became a symbol of resistance against the US imperialism and its ally, the Zionist regime."
Commenting on the effective role of the Islamic Revolution in emergence of more Islamic movements in the region, Kantar said, "Victory of the Islamic Revolution in Iran inspired regional Muslim freedom-seekers to form resistance movements in the region including the resistance movement of Lebanon which has finally succeeded to liberate most of the occupied lands in southern Lebanon from Israeli occupation."