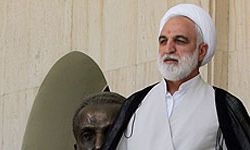 TEHRAN (FNA)- Iran's Intelligence Minister Gholam Hossein Mohseni Ejei said on Saturday the EU removal of Mojahedin-e Khalq Organization (MKO) from its terrorist black list is a "shameful" measure for the Europe and the West following double standards on terrorism.
In an interview with Iranian students news agency, Ejei said the group's crimes over the last 30 years have been unveiled to all people; it even spread its terrorist measures in western countries for some time.
The EU last Monday removed the MKO terrorist group from its black list which provoked strong condemnations by Iranian officials.
The group is proud of its terrorist measures while some European states are excluding the group from their black lists, Ejei added.
The measure is a shame for Europe and those claiming they support war on terror and human rights, he said adding leaders of superpowers and some European states are expected to act in such ill-mannered way.
Elsewhere, regarding the repentance of one member of the group and the possibility of his return to Iran, he said according to Islamic principles, those who wish to avoid wrongdoing can make up for their previous mistakes and the path is open for them.
The terrorist band founded in 1965 in Iran has committed a large number of terrorist attacks against Iranians. It then fled to Iraq and helped the former Iraqi President Saddam Hossein in its attacks against Iranian territory.