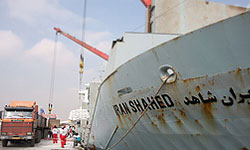 TEHRAN (FNA)- An Iranian aid ship carrying medical supplies for Gaza arrived in Beirut after its organizers said Friday it was denied entry by Egypt.
"The ship was forced to change course after Egypt denied it entry," Ghazanfar Rokn-Abadi, spokesman for the Gaza Reconstruction Committee of Iran, said.
"We waited 24 hours and then decided to head for Lebanon," the spokesman was quoted by Lebanese radios as saying. The Iran Shahed arrived in Beirut, late Thursday.